My mother in law wanted to use this romantic and beautiful Renoir painting for place cards at my sister in law's upcoming wedding.  It wouldn't be hard for me to make the place cards.  I double checked on copyright with the Musée d'Orsay, who confirmed it's in the public domain.  Won't that gorgeous, romantic couple simply grace the dinner tables?
These two are in copyright but I just had to post anyway – aren't they lovesome?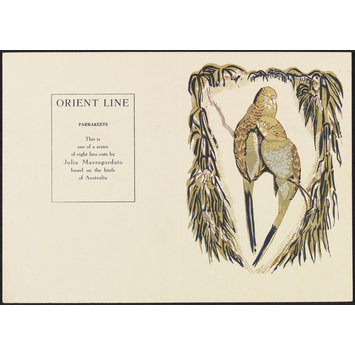 Julia Mavrogordato – Parakeets menu card
The Victoria and Albert Museum – London

Julia Mavrogordato – Black Swans
The Victoria and albert museum – London
I think the following tender images are in the pubic domain and anyone can use them anytime, although a particular photograph of a painting may be copyrighted even if the painting itself is available for public use.  As you can see, copyright is confusing and varies dramatically from country to country – it's smart to make sure that one can use a painting, photograph or other image.   A double check with the museum or owner if you'd like to use them is easy and covers all bases.
The Renoir quest for my wonderful mother in law has led me to enjoy time with museums and their paintings and textiles – which has enthused and inspired me.  There's a lot of inspiration out there.  Are you feeling inspired?  Are you looking for inspiration?  Please get in touch for a custom design that will fulfill these dreams.

Claude Monet – Bazille and Camille 1865
National Gallery of Art, Washington, DC
Eric Gill – The Soul and the Bridegroom
The Tate – London
Sir Edward Coley Burne-Jones – King René's Honeymoon
The Tate – London
 Portion of 'Swan, Rush and Iris' wallpaper dado, silhouetted swans against a stylised background of rush and iris, suggesting the influence of Greek vase paintings; Designed by Walter Crane; Color print from wood blocks, on paper; Produced by Jeffrey & Co.; England; 1877.
Victoria and Albert Museum,- London